By Timur Sirt: Daily Sabah Tech, Istanbul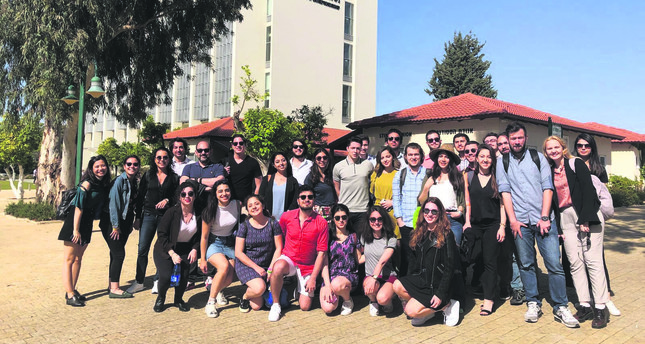 Israel, which has introduced billion-dollar ventures with a technology entrepreneurship model that creates agricultural productivity, cyber-security and military defense technologies, defines itself as a country of technology ventures
In Israel, where thousands of new technology ventures emerge every year from agriculture to the defense industry, from cyber-security to health technologies, $23 billion worth of company purchases took place in 2017 alone. The goal of most enterprises in Tel Aviv and Jerusalem is to build businesses that will compete globally.
Enterprises, foundation managers and 42 college students from Turkey, who joined the trip organized by the Entrepreneurship Foundation, have a lot to learn from the entrepreneurial ecosystem being built in Israel. There are technology ventures that now make millions of dollars in sales in fields where animals used to graze.
Israel, which has inadequate underground resources and limited soil, does not remain limited to Jewish migration to solve the problem of human resources for technology ventures. It encourages technology entrepreneurs with different abilities to come to the country.
Yossi Vardi, who sold AOL to the Mirabilis company, which developed the legendary messaging software ICQ in 1998 and inspired Israeli companies, met with the young people during the visit. He listened to their projects and made suggestions. Vardi's success has a big part in ensuring that technology entrepreneurs in Israel acquire a global vision. He hosted a dinner party for the young people from the Entrepreneurship Foundation, shared the experiences of the Israeli ecosystem and answered the students' questions.
Innovative, passionate youth
We tried to explore the entrepreneurial ecosystem in Israel for two days with 42 brilliant young people carefully chosen by the Entrepreneurship Foundation from Mardin, Diyarbakır, Eskişehir, Aydın, Ankara, Istanbul and Elazığ. The Entrepreneurship Foundation, which visited Tel Aviv with more than 200 people in the last 3 years, visited the capital with 42 college students, members of the Board of Trustees, and supporters in the ecosystem, selected from more than 94,000 applicants, on April 23-26 in the fourth year.
Participants had the opportunity to meet with entrepreneurs and investors in Tel Aviv and Jerusalem, visit innovation centers, watch the ecosystem closely on the Google Campus Tel Aviv and the IDC Adelman School of Entrepreneurship for one day.
Global Perspective Markafoni founder and foundation chair Sina Afra said they strive to disseminate entrepreneurship culture in Turkey.
"These young people are chosen through a difficult process. Since 2014, it has taken college student fellows included in the program to Israel each year, thinking that experiencing an entrepreneurship ecosystem in another culture is very important for developing a global perspective," Afra said. "We also offer a chance to experience entrepreneurship centers in countries such as Germany, Russia and the U.K. closely. I think it is important to examine Israel's example to gain a global perspective of enterprises from Turkey. It is a successful example that I think has similarities with us."
$23 billion investment in 2017
The sales of Israeli enterprises, which have made doing business with a purely global perspective into a principle, reached $23 billion in 2017. Technology ventures that started with the sale of Mirabilis, the developer of ICQ, to AOL in 1998, have been working for many years with the ecosystem model. The sales of ventures, which reached $6.77 billion in 2013, increased every year and reached the $10 billion mark in 2016.
Mobileye, which was purchased by Intel for $15.3 billion in 2017 and 2018, and Orbotech, which was purchased by KLA-Tencor for $3.4 billion, became the most notable Israeli companies. Mobileye, bought by Intel last year, draws great attention with the driverless automobile technology that it has developed.
I had the chance to see the company during my first visit to Israel years ago. They shared the story of how they developed the adaptive ride control used today in automobiles and driver-warning technology years ago.
Different disciplines
The Adelman School of Entrepreneurship, which we visited in Tel Aviv, encourages young people from the various disciplines to work for a common goal. Entrepreneurs from different disciplines gain a broader perspective towards today's problems. Among the graduates of the school, which is a totally civilian project, are agriculture, health, finance and cyber-security-technology ventures. Skills in law, art, social sciences, medicine, mathematics and engineering enable more successful ventures to be built.
Initially, students develop their projects for the next 8 weeks on the basic changes and problems of the 21st century and establish their teams. In the 22-week section, they move to the project phase. Revenue and value models are created, and prototypes and tools are put forward. In the last 10 weeks, the application consists of presentation to the target customer and investor. Since the beginning of the program, approximately $721 million has been invested and 2,698 jobs have been created.
The hero of the bees
BeeHero, one of the successful enterprises of the school, solves the tasks of traditional bee caregivers using current tools. The project, which began one year ago, focuses not only on honey production, but also on the pollen handling capabilities of bees. By making measurements, the movement of the bees is remotely monitored and guided. The BeeHero venture, which succeeded in reaching the first customer from an idea, was able to test the solution in one of the world's largest corporations in the state of California.
Economic relations improving
Turkey's Ambassador to Israel Kemal Ökem said Turkish enterprises could also benefit from Israel's communication network, which has a unique ecosystem in terms of technology ventures. Ambassador Ökem, who gave advice to entrepreneurial youths at the reception held by the embassy in a historic building from the Ottoman period, stressed that it is important for the two countries to increase cooperation in culture, tourism and economy regardless of their political affiliations.
"Israel has considerable opportunities and networks in terms of technology ventures. Moreover, it is a very close country to Turkey. Here we have links as our historical heritage," Ökem said. "There are people who speak Turkish well. Enterprises can be accurately assessed on whether this work is sustainable, not by new ideas and technologies, but by conscience. We will continue to support ventures coming from Turkey."
Venture capital funds
Institutions in Turkey do not lean towards venture capital. There are very few venture capital funds. Lastly, Türk Telekom made its first investment in online hospital "DoctorTurkey" through its venture capital company TT Ventures. There are different types of investors in Israel.
Utilizing the crowd-funding method, OurCrowd makes it easier for small investors to invest in the venture. OurCrowd executives are investing in ventures in agriculture, consumer equipment, cyber security, unmanned aerial vehicles, energy, hardware and software for institutions, healthcare and finance technology initiatives, saying that technology ventures can be successfully funded by crowd funding rather than just going public. Each investor gets a chance to invest in different ventures, depending on its size and the sector.
$150 million 'digital fortress'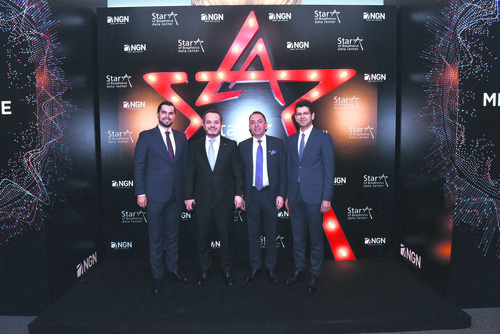 From left to right Taha Tosun, Arda Ermut, İnanç Erol and Ahmet Burak Dağlıoğlu.
Having operated in the technology sector since 2005, NGN group opened its data center investment Star of the Bosporus, which received a great contribution from the Investment Support and Promotion Agency of Turkey from the initital idea phase of the project up to its completion in Tuzla, Istanbul.
Introduced through the slogan "digital fortress," the center will provide services at international standards in many areas, including cloud, security, application management, disaster recovery, backup, data storage and hosting. The NGN company, managed by the Swiss-based ADM Ventures group, introduced the Star of Bosporus investment at the Four Seasons Bosporus hotel in Istanbul, which attracted extensive participation from the business world.
Strategic investment
Prime Ministry Investment Support and Promotion Agency of Turkey (ISPAT) President Arda Ermut said in his speech at the event that the NGN group, which invested in a very important, sensitive area such as data, has undertaken a strategic investment for Turkey.
"Data center investment is of great importance for many other sectors, especially in the financial sector, in this period where the protection of information security and information is very important," Ermut said. "This is also a high-tech investment. When we attract investment as an agency, we give priority to high value-added investments and sectors that will transfer technology. Therefore, this investment is very important to us because we are aware of the importance of such investments in order to rank higher in the value-added chain as a country."
Pioneer in the business
Noting that they are honored to provide an invaluable investment to Turkey in the field of technology, NGN Chairman and CEO İnanç Erol said they have taken a very important step with the principle of adding value to the country, contributing to employment, making investments and making investments possible.
Erol said they realized the Star of Bosporus data center with an investment of around $150 million.
"Our goal is far more than just providing a data center facility to our country. The Star of Bosporus Data Center will set new standards for our industry," Erol continued. "As NGN, we have covered a lot of distance in a short time to become the pioneer in developments in technology and information in the world, not the follower, and we will continue to compete with the great speed of digitalization."
Seismic isolation
The NGN group, which has Russia CROC as its technology partner, will set new standards with the Star of Bosporus for many sectors, especially banking and finance, manufacturing, telecommunication, retail and public. Aiming to provide uninterrupted service with high security under any circumstance, Star of the Bosporus stands out as the first operator-free commercial data center in Turkey with the Uptime Institute Tier-III certificate. With total power of 16 megawatts (MW) and over 5,000 square meters of white space, over 2,000 standard cabinets can be operated in the center.
The location of the investment in Tuzla was chosen by taking into consideration important location criteria, such as easy access, uninterrupted power supply and distance to risks. Star of Bosporus is far away from many physical risks as it is adjacent to the Istanbul Tepeören Electricity Distribution Plant.
The data center has a structural seismic isolation system designed to minimize the risk and impact of earthquakes. Designed to ensure the continuity of the operation during an earthquake by taking into account the correlation of seismic events over the last 2,500 years, the center will ensure the integrity of the building in the event of an earthquake and will eliminate any possible utility cuts.